---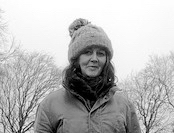 About the artist
Fiona McIntyre is a founding member of The Arborealists. Her work appears in our exhibition Artists who love trees.
Trained at Edinburgh College of Art. she defines herself as a gestural colourist painter. She went on to study copper etching at Grafikskolan Forum in Malmø, Sweden, mentored by Imaginist printmaker Bertil Lundberg. She is currently developing work using traditional drawing materials and natural pigments.
The photograph shows Fiona at Wayland's Smithy, a neolithic site on the ancient Ridgeway track, reputedly the dwelling of the Saxon god of metal work.
---
Fiona at work - in the woods and in studio
Video
---
The Works